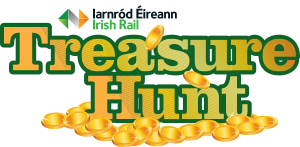 All Aboard Santa's Christmas Treasure Train To The Dublin Docklands Christmas Festival At Chq!
DART inwards this Christmas to the heart of Dublin, and experience a festive feast of fun at the Docklands Christmas Festival. Why not come in for a taste of Christmas by the Liffey, you never know you could find some treasure!
Again we will hold our family treasure hunt, which begins, even before you get here! Take the Dart and as you slice through the Christmas rush there are clues to find as you gaze out the window.
All Aboard!
Dig And Reveal Treasure, (DART), is a family fun treasure hunt which starts on the DART line as starry eyed families bursting with Christmas excitement come choo chooing into Dublin's Heart to the Dublin Docklands Festival.
The Family Christmas Treasure Hunt begins on the DART with two clues that can be seen in the last two stations as you approach Connolly.